A paper bag is a bag made of paper, usually kraft paper, artpaper, ivory board, specialty paper. Paper bags can be made either with virgin or recycled fibres to meet customers' demands. Paper bags are commonly used as shopping carrier bags and for packaging of some consumer goods. They carry a wide range of products from gifts, cosmetics, groceries, glass bottles, clothing, shoes, books, toiletries, electronics and various other goods and can also function as means of transport in day-to-day activities.
Paper bags can be made to withstand more pressure or weight than plastic bags do.
Paper Bags with Handle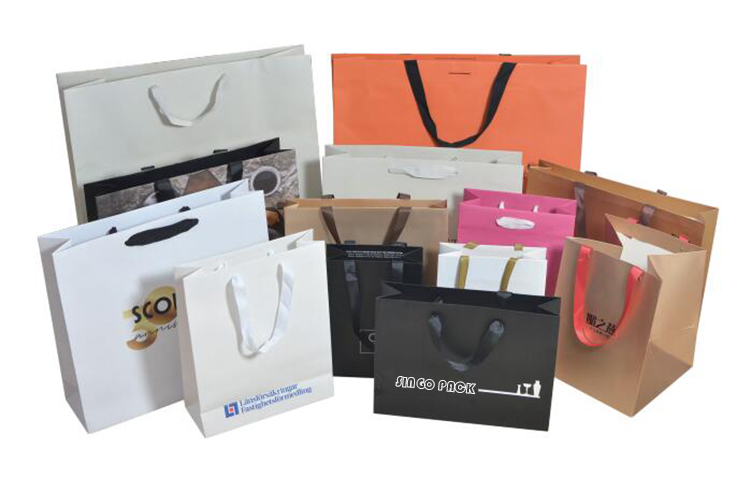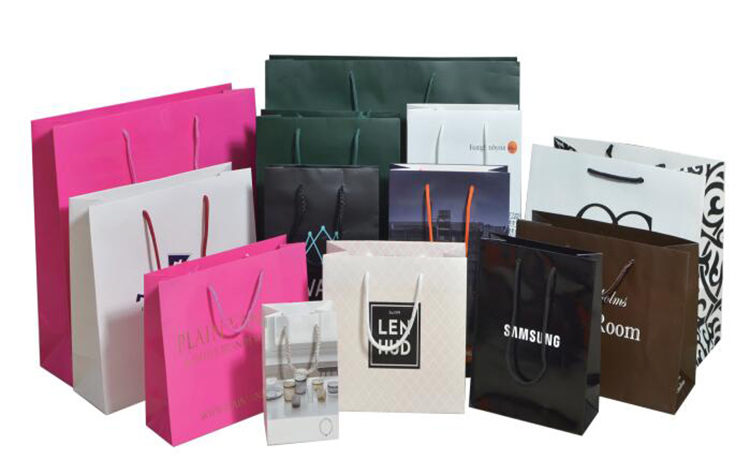 Usually made of artpaper, kraft paper, ivory board or specialty paper, Handle Types could be Ribbon Handle, PP Rope Handle, Cotton Handle, Grosgrain Handle, Nylon Handle,Twisted Paper Handle, Flat Paper Handle, Die-Cut Handle, Drawstring or Customized. You could decorate them with drawing, coloring and etc for different holidays as gifts bags to your special ones. Also, as retail carry bags, you could staple your business card or stamp the outside of the bag with your logo on.
Kraft Paper Bags

Standard brown paper bags are made from kraft paper. Tote-style paper carrier bags, such as those often used by department stores or as gift bags, can be made from any kind of paper, and come in any color. There are two different styles of handles for paper carrier bags: flat handles and cord handles. Paper carrier bags made from virgin kraft paper are developed especially for demanding packaging. Paper bags can be made from recycled paper, with some local laws requiring bags to have a minimum percentage of post-consumer recycled content.
Paper shopping bags, brown paper bags, grocery bags, paper bread bags and other light duty bags have a single layer of paper. A variety of constructions and designs are available. Many are printed with the names of stores and brands. Paper bags are not waterproof. Types of paper bag are: laminated, twisted, flat tap. The laminated bag, whilst not totally waterproof, has a laminate that protects the outside to some degree.
Paper Bag without Handle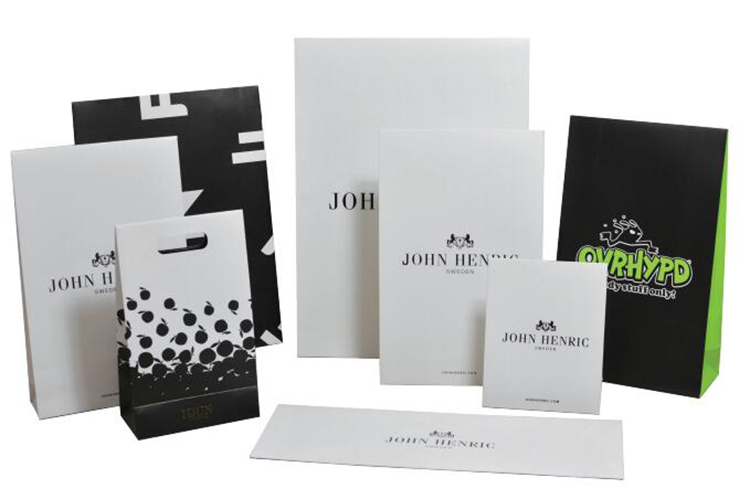 The packaging gift bags are always play a fundamental role for a company want to improve their brands, Diversity design, suitable for socks, ties, garments packaging.
Feature:
1. Sustainability
The raw material used in papermaking – cellulose fibre extracted from wood – is a renewable and natural resource.Due to their biodegradable characteristics, paper bags degrade in a short period of time (two to five months).When using natural water-based colours and starch-based adhesives, paper bags do not harm the environment.
Paper bags can be used several times. We recommend reusing paper carrier bags as often as possible in order to further decrease the environmental impact.
2. Recycling
Paper bags are highly biodegradable and recyclable, and hence does not pose the same environmental footprint as plastic bags do. The fibres are reused 2.4 times on world average.
Plastic or water-resistant coatings or layers make recycling more difficult. Paper bag recycling is done through the re-pulping of the paper recycling and pressing into the required shapes.
3. Safety
Compared to plastic bags, paper bags present less suffocation risk to young children or animals.
4. Branding and marketing
Paper shopping bags can be used as a vehicle to project the brand image of retailers. Paper is very tactile due to its texture and shape. Its print quality and color reproduction allow for creativity in advertising and development of the brand image. Furthermore, they achieve maximum visibility and great appreciation from customers. Using paper bags gives a signal of commitment to the environment and by using packaging made from renewable, recyclable and biodegradable sources, retailers and brand owners contribute to reducing the use of non-biodegradable shopping bags. Paper carrier bags can be a visible part of corporate social responsibility, and they are in line with a sustainable consumer lifestyle.